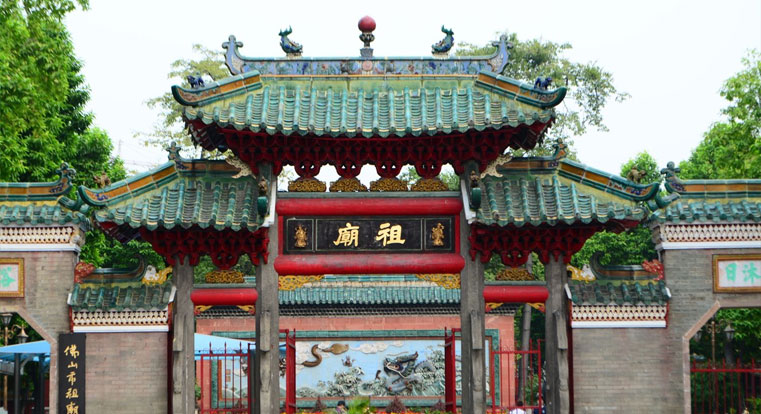 The Zumiao Temple, also known as Foshan Zumiao Museum today, is located at No. 21, Zumiao Road, Chancheng District, covering an area of 30,200 square meters. It is a National Key Cultural Relics Protection Unit, a National AAAA Tourist Attraction, a Patriotism Education Base in Guangdong Province, a Chinese Culture Inheritance Base in Guangdong Province, and one of the demonstration sites of ten civilized tourist attractions in Guangdong Province.
The Foshan Zumiao Museum is a folk museum integrating the ancient architectural art of the Ming and Qing Dynasties and the traditional culture of Foshan. Its coverage includes the ancient architectural complex of Zumiao, Confucius Temple, Huang Feihong Memorial Hall, Ip Man Hall, etc.
The Zumiao Temple, dedicated to the Supreme Emperor of the Dark Heaven, Zhenwu of the North Pole of the Taoism, was built in the Emperor Yuanfeng's Reign period of the Northern Song Dynasty (AD 1078-1085). It is a key cultural relics protection unit in China. The Confucius Temple was built in the third year of the Emperor Xuantong of the Qing Dynasty (AD 1911). It was a place to honor Confucius at the end of the Qing Dynasty and the beginning of the Republic of China. It is a cultural relics protection unit in Foshan City. Huang Feihong Memorial Hall and Ip Man Hall were built and opened to the outside in 2001 to commemorate Master Huang Feihong and Ip Man, famous martial artists from Foshan.
The cultural relics inside Foshan Zumiao Museum are mainly Taoist and Foshan local folk cultural relics. Our museum exhibits and fully displays Taoist culture, martial arts culture, Foshan folk art and other folk cultures. Every year, we hold far-reaching folk cultural activities such as Spring Festival Blessing, March 3 of the Chinese Lunar Calender that commemorates Northern Emperor's Birthday, Township Drinking Ceremony, Spring and Autumn Festival and so on. The museum also holds folk culture dynamic display activities such as Confucius Temple Schoolchildren's Pen Opening Ceremony, Huang Feihong Lion Dancing Performance and Cantonese Opera Performance for many years, and continuously enriches the display and exhibition resources by introducing and hosting high-level and high-quality exhibitions. In terms of academic research, in recent years, our museum has published workings including Center and Symbol - History, Art and Society of Foshan Zumiao Temple, Foshan Zumiao Temple, Ancient Porcelain Styles and Legend of Zumiao Temple.